beth wimmer ❦ switzerland's americana songbird
"An honest voice, full of heart and soul and incredible songs." - Swa, ROOTSVILLE, Belgium
"Beth, deine Ausstrahlung und deine fröhliche Art auf der Bühne sind absolut grandios. Die Schweiz braucht dich!" - Andy Sager, Baronessa - die Kulturbar, Lenzburg, Switzerland
"Beth Wimmer and Mike Bischof are an exceptional duo whose captivating performances are heartbreakingly beautiful. From the opening notes of the first song to the last notes of the final encore, audiences are led on an exquisite musical journey that will keep them nourished long after the concert is over." - Stephen Ferron, Folk in Heaven, Pieterlen, Switzerland
❦ ❦ ❦ ❦ ❦ ❦
Country Style Magazine, Issue 134 / February 2022, by Thomas Kobler. Photo by Peter Frei (english translation below):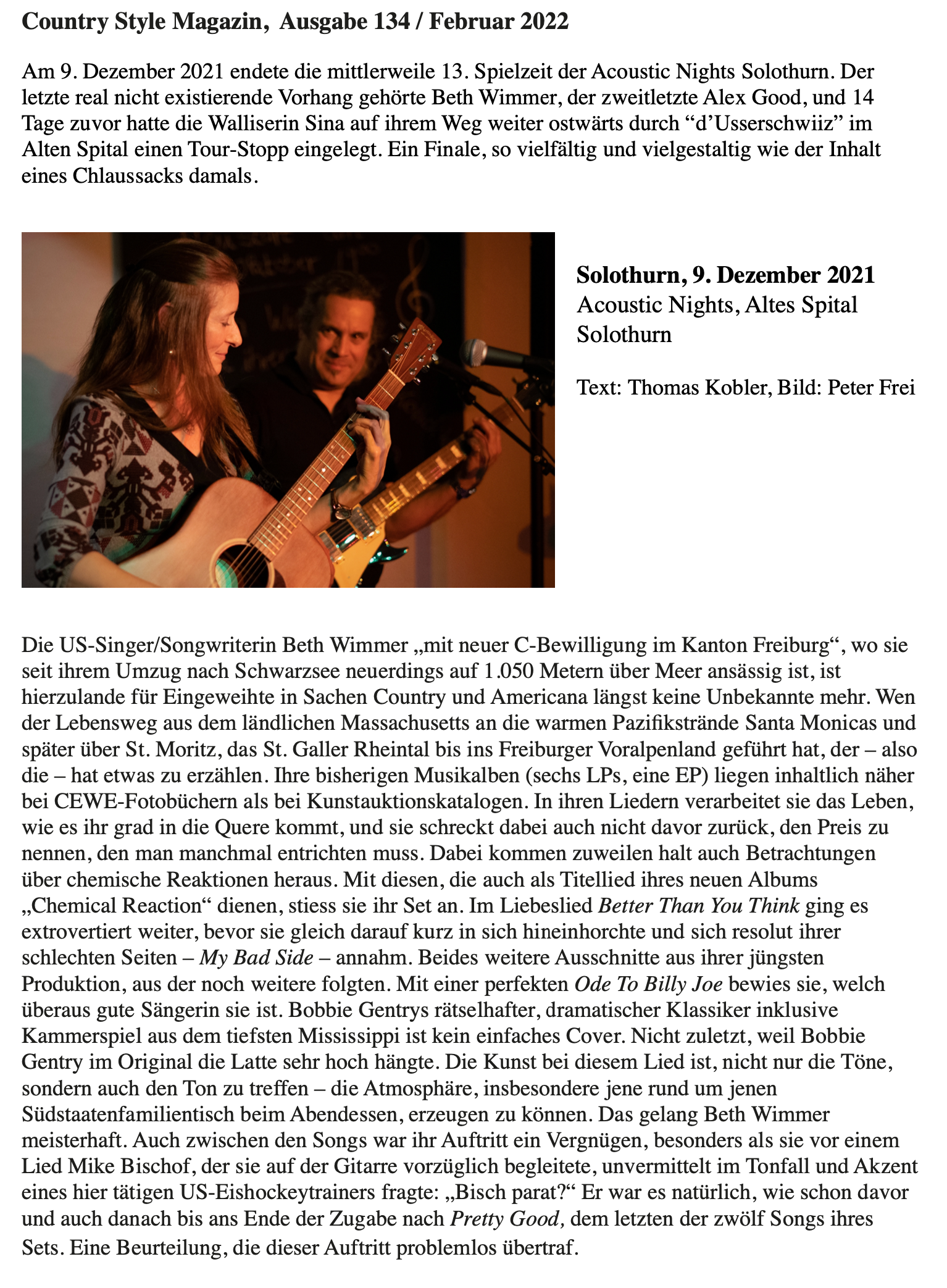 On December 9, 2021, the now 13th season of Acoustic Nights in Solothurn came to an end. The last real (non-existent) curtain belonged to Beth Wimmer, the second last to Alex Good....
The US singer/songwriter Beth Wimmer "with a new C (permanent residence) Permit in the canton of Fribourg", where she has recently been based at 1,050 meters above sea level since moving to Schwarzsee, is no longer an unknown quantity in this country for insiders in the field of country and Americana. Whoever's path of life has taken them from rural Massachusetts to the warm Pacific beaches of Santa Monica and later, via St. Moritz, from the Rhine Valley of St. Gallen to the foothills of the Alps in Fribourg, has something to tell. Her previous music albums (six LPs, one EP) are closer in content to CEWE photo books than to art auction catalogs. In her songs, she deals with life as it comes her way, and she doesn't shy away from naming the price that one sometimes has to pay. In the process, sometimes reflections on chemical reactions come out. She kicked off her set with these, which also serve as the title song of her new album, "Chemical Reaction." The love song 'Better Than You Think' followed, extroverted, before she listened to herself for a moment and resolutely took on her bad side - 'My Bad Side'. Both selections from her latest production, from which more followed. She proved what an exceedingly good singer she is with a perfect 'Ode To Billy Joe'. Bobbie Gentry's enigmatic, dramatic classic including a chamber play from deepest Mississippi is no easy cover. Not least because Bobbie Gentry set the bar very high in the original. The art of this song is to not only hit the notes, but also the tone - to be able to create the atmosphere, especially that around that Southern family dinner table. Beth Wimmer accomplished that masterfully. Even between songs, her performance was a pleasure, especially when, before one song, she abruptly asked Mike Bischof, who accompanied her exquisitely on guitar, in the tone and accent of a U.S. hockey coach working here, "Bisch parat?" (Swiss-German for, "Are you ready?"). He was, of course, as he had been before and after, until the end of the encore after 'Pretty Good', the last of the twelve songs in their set. An assessment that this performance easily surpassed.
❦ ❦ ❦ ❦ ❦ ❦
"CHEMICAL REACTION" CD 2020. Recorded in Little Big Beat Studios, Liechtenstein - and Honkey Abby Studio Los Angeles. Billy Watts, co-producer. bookmark music 
Heaven Magazine, Netherlands - Pieter Wijnstekers: "Swiss-based American singer-songwriter Beth Wimmer alerted us to the excellent Austrian blues formation Stompin' Howie & The Voodoo Train. That the band figures prominently on Wimmer's 'Chemical Reaction', produced by and featuring Stompin' Howie guitarist Billy Watts, was no coincidence. ...Wimmer's folk-rootsy style once again casts ten excellently delivered songs." 
Radio Skala Berlin - Karsten Rube: "Beth Wimmer ist in Boston und später in Kalifornien aufgewachsen. Früh mit Folkgrößen wie Janis Joplin und Joni Mitchell in Kontakt gekommen, war ihr Weg als Musikerin schnell vorgeprägt. Seit mehr als einem Jahrzehnt lebt sie inzwischen in den Alpen. Die Schweiz und das kleine Lichtenstein sind wohl ganz fruchtbare Plätze, um bodenständige Americana-Musik zu produzieren. Ihr aktuelles Album heißt "Chemical Reaktion". Beth Wimmer geht es in ihren Songs um Nähe, um Versuche miteinander klar zukommen, was bei manchen Konstellationen nicht leicht ist und bei anderen nahezu mühelos gelingt. Eine Frage der "Chemical Reaktion".  Dynamik und Harmonie vermitteln die zehn Songs des Albums, die ausnahmslos aus der eigenen Feder entsprungen sind. In den aktuellen Zeiten, in den von Tourbetrieb und unterwegs sein, kaum die Rede sein kann, ist "Chemical Reaction" ein wunderbares Roadmusic-Album geworden. Man spürt die Antriebskraft, die die Musiker, wie die Hörer gleichermaßen auf Trab hält. Schwierig wird es, nach mehrmaligem Hören einen Lieblingssong auszumachen. Letztlich funktioniert jeder auf seine eigene eingängige Weise. Beth Wimmers Gesang sowie ihre Melodieführung stehen ganz selbstverständlich im Mittelpunkt ihrer musikalischen Erzählungen. Die Chemie stimmt auch zwischen der Sängerin und ihrer Band. Die Truppe besteht aus langjährigen Freunden und erfahrenen Musikern, die in Los Angeles zu Hause sind und die die Künstlerin mit einfallsreichen Arrangements zu umhüllen wissen. "Chemical Reaction" ist ein mehr als nur gelungenes Album. Schon jetzt ein Kandidat für die Bestenliste 2021." 
❦ ❦ ❦ ❦ ❦ ❦
"A beautiful voice she has, Wimmer serves her songs with veins full of soul". -AltCountry.nl 
"...if Chris Isaac and Annie Lennox moved down to the southern part of the states and had themselves a baby girl - that girl would sound like Beth." - Melodic.net, Sweden. 
❦ ❦ ❦ ❦ ❦ ❦
"BOOKMARK" CD 2017/18. Recorded in Little Big Beat Studios, Liechtenstein. Billy Watts, co-producer. bookmark music.
"Beth, I am very impressed with your new album...the best you recorded ever, without any debate... OK there are all these good songs, the very good rendition, but what shines the most is your voice. There is a self confidence I didn't hear before, your voice on this rich soundscape brings an emotional intensity to your songs... and you sing on melodies that are not so easy, it is your strength, it is part of your musical identity, part of your charm. And when you give us hooking melodies as on 'Pretty Good', you hit the sky! Really...this cd is kind of an artistic blossoming, you give me the feeling you found yourself, your found your own path... Merci!!" 
-Mike Penard, RADIO ISA, Lhuis, France. 
"Stylistically, this is a relatively bluesy album, although it opens in dreamier shape with the title track's reverie, Watts adding electric guitar and bass to Wimmer's acoustic on a celebration of a perfect relationship served up in musical metaphors. The blues kick in though on the uptempo 70s AM boogie rhythm of 'Loosen My Grip', Taras Prodaniuk laying down the bass-lines on a number basically about getting loose, letting go of the bad and going with the groove that offers up the wisdom to 'keep your eye on the sweet donut, not on the hole.' Likewise, even if the lyrics concern moving on and not crying years over a bad love, the lazing mid-tempo ballad 'Louisiana' also evokes thoughts of that same mellow rock era and artists such as Bonnie Raitt, Carly Simon, Wendy Waldman and Maria Muldaur." -Mike Davies, Folking.com, UK 
"Beth Wimmers Album "Bookmark" (2018) ist eingängige Americana-music mit kalifornischer Sonne gewürzt und voller Esprit vorgetragen. Zehn Songs, die mit Roadmusic und Liebesballaden eine ganze Palette an Emotionen abdecken und dabei gekonnt zwischen Enthusiasmus und Sentimentalität pendeln. Auf Radio-Skala zu hören in den Sendungen von "Go-West". -Karsten Rube, Radio Skala, Berlin. 
❦ ❦ ❦ ❦ ❦ ❦
"GHOSTS & MEN" CD 2011. Recorded in Radiosky Studio, Como, Italy. Damiano Della Torre co-producer. radiosky records. 
"Ghosts & Men' is a warm mix of uptempo blues and soul inflected Americana and more laid back, easy rolling balladry. The dappled folk haze of 'Easier Life' suggests early Joni Mitchell, while the funkier 'Bring You Back' and the southern soul swing of 'Makin' War' bring thoughts of Bonnie Raitt or the late Nicolette Larson. Deserving to reach as wide an audience as recent releases by Welch and Williams, it's a contender for 2011's "best-ofs." -NetRhythms UK
"American singer-songwriter Beth Wimmer has called the rugged, famous mountains of Switzerland her home for some time now. After two increasingly promising albums, her newest collection of country-infused rock, 'Ghosts & Men', is by some distance her strongest yet." -Americana-UK 
"We cannot find a word of criticism for this excellent new album by Wimmer. The magnificent instrumental contribution of co-producer Damiano Della Torre on Hammond organ and accordion adds tremendous value to these wonderfully moving songs." -Rootstime, Belgium
❦ ❦ ❦ ❦ ❦ ❦
"MIRACLE GIRL" CD 2008. Recorded in Honky Abbey Studios, Los Angeles. David Raven co-producer.
"Beth Wimmer embraces Americana with alt-country, rock and folk...The result may be called astonishing. Wimmer with the title track immediately indicates a very clear business card: ...with a miracle like me...brave and crazy things I do...I'll bring magic to your world, I'm a miracle girl. Superb song! An honest voice. Miracle Girl is full of heart and soul and incredible songs." -Swa, Rootsville, Belgium
"I've long been an admirer of Beth's smoky alto which is front and center on the wonderful "Miracle Girl". It's her songwriting though, that shines through. The tongue in cheek "Lover from Last Summer" and "Self Righteous Son of a Bitch" are my two favorites. I love it when a writer says things in a way that they've never been said before." - Peter Barker, Threshold Sound + Music  
"Beth's done it again! What an eclectic range and style she has. I crooned along to "Miracle Girl", tapped my fingers on the steering wheel to "Ten-Four", thought about our boys in Iraq when listening to "I Couldn't Do It" and laughed my ass off to "Self Righteous Son of a Bitch". Poignant lyrics and memorable melodies. The production quality is superb. It's another winner from Wimmer!" - Julian Moss, Honor Films 
❦ ❦ ❦ ❦ ❦ ❦
"LIVE WITHIN LIVE WITHOUT" CD 2004. Recorded in Honky Abbey Studios, Los Angeles. David Raven co-producer. 
"Beth Wimmer has a visually attractive product that's as warm and earthy as her music. Most striking is this performer's hearty, folk-informed voice, complemented by violin and B3 organ. Wimmer sings effectively about self-realization ("Move On") and even gets psychedelic on the album's title track, "Live Within Live Without". - Music Connection Magazine  
"Wimmer unleashes painterly-like observations packaged amidst some of the catchiest hooks this side of Elvis Costello." - Thomas Reilly, Primerica Music Review  
"Live Within Live Without" is a wonderful collection of twelve tracks that showcases Wimmer's edgy and progressive sound. Her luxuriant voice mesmerizes the listener, wanting more... This tapestry of human emotions is beautifully woven and quite captivating. Beth shows her expertise in telling her story with a sensitivity and humanness that she delivers with confidence. She has definitely found a connection with her gorgeous vocals and sweeping melodies." - Audrey Elliot, Musical Discoveries